This disclosure is presented to you at the time of opening your account, is incorporated by reference into the Terms and is available to you on the website and mobile application of Coinut Canada Ltd. ("Coinut" or "we"). This disclosure provides details about our services, the features of your account, how they operate and our responsibilities to you. By opening an account with Coinut's crypto asset trading platform (the "Platform"), you are acknowledging having received, read and understood this disclosure.
The Platform enables users to buy, sell, hold, withdraw and deposit crypto assets. The Platform is made available through Coinut's website and mobile application. Coinut has been registered as a restricted dealer in Ontario subject to specified terms and conditions that are the subject of a specific order and as such may not be subject to all requirements otherwise applicable to an investment dealer and IIROC member, including those that apply to marketplaces and to trading on marketplaces.
Coinut is not a member of the Canadian Investor Protection Fund. Crypto contracts and crypto assets purchased and held in an account with Coinut are not protected by the Canadian Investor Protection Fund, the Canadian Deposit Insurance Corporation or any other investor protection insurance program.
The following is additional information concerning your relationship with Coinut:
The Nature of Your Account with Coinut
When you open an account with Coinut, you enter into a contract with Coinut that provides you with the right to buy, sell, hold, withdraw and deposit crypto assets. When you buy or sell crypto assets using the Platform, you are placing buy and sell orders using the Platform's order book and are therefore trading with other Platform users. Coinut enables you to use your own cash or crypto assets to purchase a crypto asset and then custodies that crypto asset for you should you decide not to withdraw it to a personal wallet. Crypto assets are owned by you from the time of purchase until the time of sale.
When entering into trades using the Platform, it is possible that Block Calculus Pte. Ltd. ("BCP"), a Singaporean company wholly-owned by the founder of Coinut, will be the counterparty to your order. BCP participates on the Platform in order to provide liquidity to the Platform. For more information concerning BCP's participation on the Platform, please see our conflict of interest policies and procedures document.
Funding and Withdrawal
As Coinut does not offer margin or leverage, your account will need to be pre-funded to complete any trades on the Platform. Coinut allows you to fund your account in Canadian or United States dollars. Coinut also allows you to fund your account with any of the crypto assets we make available for trading on the Platform that you hold in a personal wallet. Similarly, you are able to withdraw: (i) Canadian or United States dollars from your account; and (ii) crypto assets to a personal wallet. For more information on the steps you need to take to fund your account or withdraw Canadian or United States dollars or crypto assets from the Platform, please visit Coinut's FAQ page.
How Your Cash Is Handled
Users' cash assets are held separately from Coinut's own funds in segregated accounts with DBS Bank. When you wish to purchase crypto assets using cash, you will instruct Coinut to transfer the cash held on your behalf with DBS Bank to fund your purchase. When you sell crypto assets from your account with Coinut, the cash proceeds will be transferred by Coinut to DBS Bank. There may be risk in permitting Coinut to have access to your cash in this manner insofar as it could be accessed improperly and misused. However, access to your cash is permitted only to settle transactions initiated by you.
How Your Crypto Assets Are Handled
Coinut allows and encourages users to withdraw crypto assets purchased on the Platform to their own private wallets. However, Coinut recognizes that certain customers may desire the convenience of relying on Coinut's third party custodial arrangements. If you do not withdraw your crypto assets to a private wallet, Coinut deposits all of the crypto assets transacted through the Platform with Coinbase Custody Trust Company, LLC ("Coinbase Custody") or in online (or "hot") wallets secured by software provided by Fireblocks Inc. Coinbase Custody is regulated by the New York Department of Financial Services under the New York Banking Law and is licensed to custody its clients' digital assets in trust on their behalf.
Custody of your crypto assets with a third party may increase certain risks when compared to holding crypto assets in a private wallet. In particular, you may be exposed to insolvency risk (credit risk), fraud risk or proficiency risk on the part of the custodial service provider and Coinut. You may also face risks in permitting Coinut to have access to crypto assets owned by you that are held with Coinbase Custody, in the event that crypto assets could be accessed improperly and misused. Neither Coinut nor Coinbase Custody will pledge, re-hypothecate or otherwise use your crypto assets in the business of Coinut or its affiliates
Risks and Descriptions of Crypto Assets
Coinut believes that our users should understand the crypto assets that they are able to trade on our Platform, as well as the general and specific risks involved in trading them. For more information on those crypto assets and the specific and general risks involved in trading them, you should review the plain language statements for each crypto asset and the risk disclosure document we prepare for our users. In addition, Coinut encourages you to carefully consider whether crypto assets are suitable investments for you given your financial resources, investment experience and knowledge, investment objectives, time horizons and risk tolerance. Trading in crypto assets may not be suitable when using retirement savings, borrowed funds, emergency funds or funds set aside for other specific purposes.
Conflicts of Interest
Coinut has implemented policies and procedures which allow it to identify, handle and prevent conflicts of interest arising in connection with its operation of the Platform, including in respect of BCP's participation on the Platform. For more information, please see our conflict of interest policies and procedures document below.
Charges and Other Compensation
For more information on the fees charged by Coinut in connection with its operation of the Platform, please see our fee schedule.
Reporting
From Coinut, you will receive electronic trade confirmations setting out the details of your transactions. You will also be able to access and download statements setting out details of your transaction history at all times when the Platform is operational.
Complaints and Dispute Resolution
Coinut will make available to you, at Coinut's expense, the services of the Ombudsman for Banking Services and Investments to resolve complaints made by you, if necessary. Please see Coinut's complaints and dispute resolution process for more information.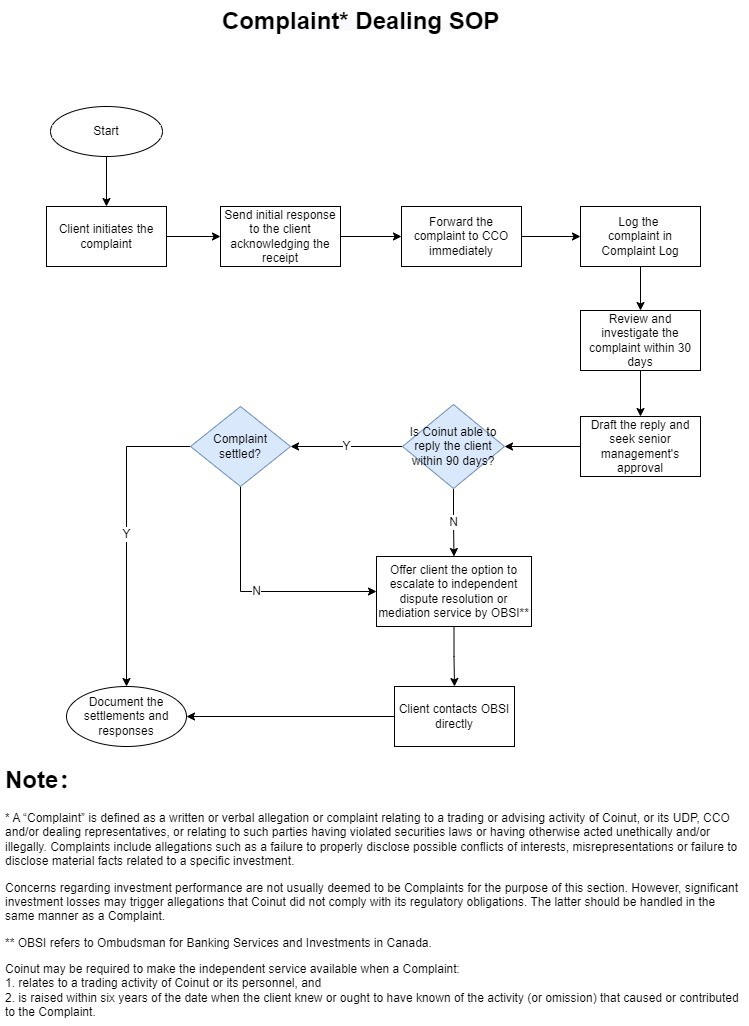 No Advice or Recommendations
You acknowledge that Coinut will not provide any advice to you and will not be responsible for making a suitability determination when accepting orders to buy or sell crypto assets. You alone are responsible for your own investment decisions and we will not consider your financial situation, investment knowledge, investment objectives, savings objectives or risk tolerance when accepting orders from you. Coinut does not provide financial, legal, tax or investment advice or recommendations.
Information Collected by Coinut
You will be asked to fill out brief assessment on your knowledge and experience with crypto assets when you open your account. In addition, you must also satisfy the "know your client" requirements set by Coinut from time to time, which are designed to comply with the requirements set by applicable securities regulations and the Proceeds of Crime (Money Laundering) and Terrorist Financing Act and its regulations.
Historical Price Data
You will have access to historical pricing information and performance graphs and data for crypto assets made available on the Platform.
(Last updated: )